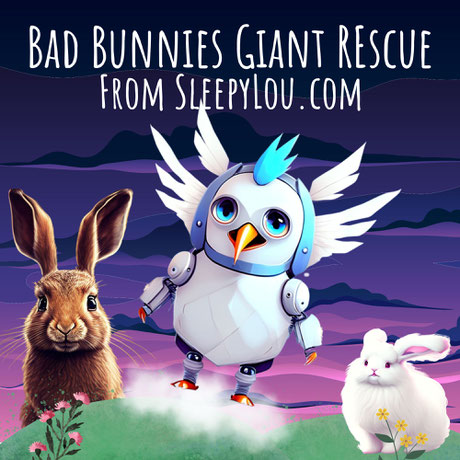 Something BIG is coming your way and it is packed full of the stuff that kids like: 
time travel,
glitter,
dynamite, 
adorable creatures; and 
control over the future of the world!
Plus all of the stuff that parents want:
sleep skills,
confidence building, 
self-calming strategies, and 
empathy building.
It's the new Bad Bunnies Giant Rescue Trilogy!
Your child can travel back through time with the Bad Bunnies to save Neralgus Rex - a giant breed of rabbit that really did exist 5 million years ago. Along the way they'll learn about evolution, de-extinction, the Island Effect, light years, empathy, the dangers of glitter and why the ocean isn't actually blue.
The stories are jam packed with interesting facts and humour. Listeners will also enjoy some relaxing beach time in Spain, with no risk of sand in the bed and no chance of jet lag!
For a limited time, the first 30 minutes of the trilogy will be available to listen to for FREE - just click here to go straight to the easy-to-use audio player in the web-app.
Happy bedtimes! 
PS.
There are two great value ways to build your library of stories.
A SleepyLou subscription gives you access to all of the content, and is just $5 AUD a month. Content is added regularly and you can cancel it anytime if you no longer need it.
Or, you can buy Sleep Story collections individually - there are Giant Rescues, Unicorn, Ninja, Merfolk, Underwater,  Amazon Rainforest and Seasonal adventures, with more on the way.
To  subscribe monthly, or buy a series, just go to the Web App and tap on any story tab that isn't marked as 'Free'. You'll then see the list of options for buying or subscribing.
If you need any sleep advice for your kids, or you have feedback, you can reach me at sleepylou@awakenhypnosis.com 
Sleep well, 
SleepyLou
Louise White
Clinical Hypnotherapist, mum and sleep lover!